The Great American Mountain Rally Revival- Day 2
The Driver's meeting call was for 7:30am on Saturday the 13th. Our Route Instructions for Day 2 were distributed. Rally Master Steve McKelvie announced that Day 2 would feature seven timed Regularity Sections. At a tad over 300 miles it was to be the longest of the rally's three days. Unlike Day 1, there would be a break in Lincoln, New Hampshire around lunch time with a start time of 2:00pm plus car number after lunch. The morning's travel schedule should leave us with roughly an hour and a half in Lincoln for unstructured time outside the cars.
By Day 2 of the rally it became apparent that we had settled into somewhat of a an alternating weather pattern. Our Wednesday trip from home in Maineville, OH to Erie, PA occurred in dry, beautiful weather. Our Thursday trip from Erie, PA to Danbury, CT was largely a dreary, drizzly, rainy day. Friday's first day of the rally had been dry and largely beautiful. Saturday's second day once again was chilly, drizzly and at times, flat out rainy. Nonetheless, we were sent out into the mountains of New England during the single most vividly beautiful time of year. Even on a rainy day the autumn colors simply commanded our eyes!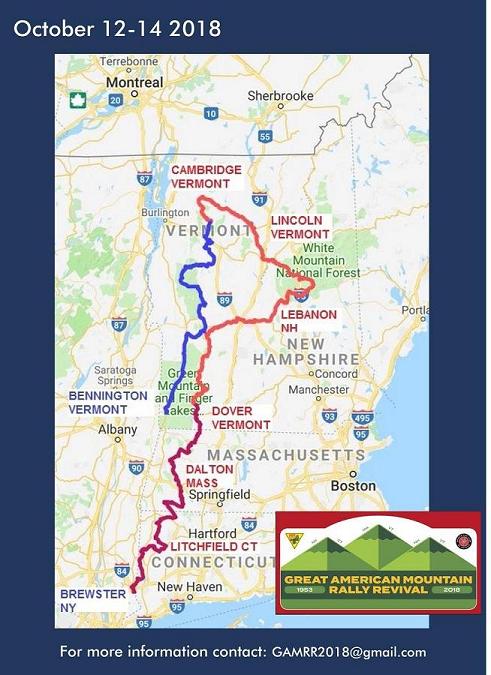 From our Mount Snow launch point we set out to the north along Rt. 100. On two occasions we missed turns and were momentarily lost from our Route Instruction sheet, but no big deal. We were not on timed Regularity Sections and we had buffer time scheduled into our Lincoln, NH lunch break. Later VT Rt. 100A and US Rt. 4 took us directly east. Just before we crossed into New Hampshire our Route Instructions called for us to cross "Over Quechee Gorge". Well, as soon as we entered the bridge that crosses the gorge we both realized we had stumbled onto something very special.
Yes, it was raining. Yes, we were in the middle of a road rally. But we had the buffer time built into the schedule in Lincoln, NH. So I found a place to park the Hudson and walked back to get some pictures of "Vermont's Little Grand Canyon", the Quechee Gorge. Some 13,000 years ago, during the Ice Age, Quechee, like the majority of our continent, was covered by a glacier. As the glacier receded, the melting waters slowly and steadily cut away the bedrock ridge that has become Vermont's most spectacular natural wonder. So there I stood with my umbrella in the rain, 168 feet above the Ottaquechee River taking in the glory of God's creation with my Nikon. And yes, I was in the middle of a road rally. What do you expect? Do you expect common sense from a rookie? And look at that picture! Aren't you glad I stopped?
Not long after we crossed into New Hampshire, we encountered our 3rd timed Regularity Section of the day.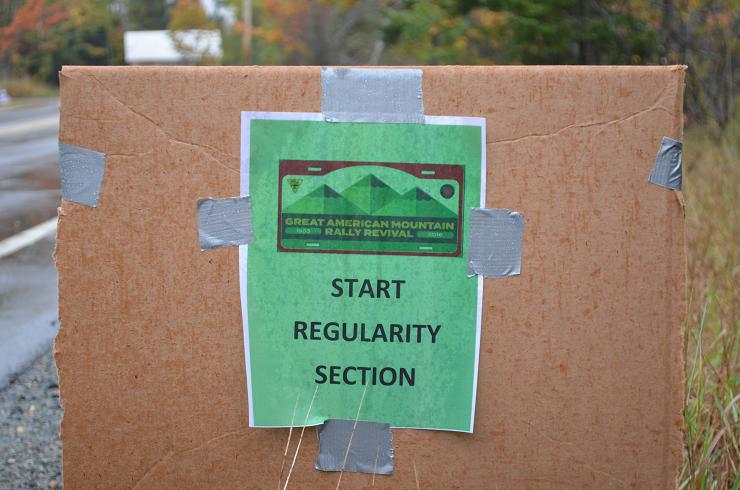 We got off to a fine start, but on the downhill, second-half of the section, we got stuck in behind a pickup truck that was crawling along at 20mph in the middle of my prescribed 30mph segment! Our time for the section was miserably slow! It was out of our control but quite frustrating.
Shortly after that experience, we got miserably lost. We simply could not find the called for turn off onto Rt. 49 east. We drove back and forth multiple times. We talked to a random lady at a gas station. We consulted our trusty 1955 Mobil Gas map we had been given on Day 1. Finally, after nearly an hour's lapse, we had found a round-about path of our own onto Rt 49 and back onto our Route Instruction sheet. By now however, our errors, combined with our leisurely pace on the non-timed sections of the day's drive, were catching up with us. There was a good chance we would not even get to Lincoln, NH by 2:00pm, let alone have time for a nice lunch break.
We entered the fourth timed Regularity Section along an uphill, pothole-filled Forestry path called "Tripoli Road". We may as well have been with the US Marines on the bomb-pocked "shores of Tripoli". It was a burden to safely come anywhere close to the prescribed 20mph on the Tripoli Road ascent. The rally official at the end of the session seemed to have given up hope that we would ever show up. He reminded us in no uncertain terms, that we were LATE and needed to make up time.
It was 2:05pm as we rolled into the Lincoln, NH city limits. In spite of our tardy arrival we simply had to make a bathroom and gasoline stop. We didn't have time for lunch but the Hudson was hungry for fuel. As we made a bee-line toward the closest fuel station we passed Car 8, Christopher and Hans in their 1973 Mercedes Benz 450SLC. It was the first of our rally brethren that we had seen in hours. Clearly, they too were running late.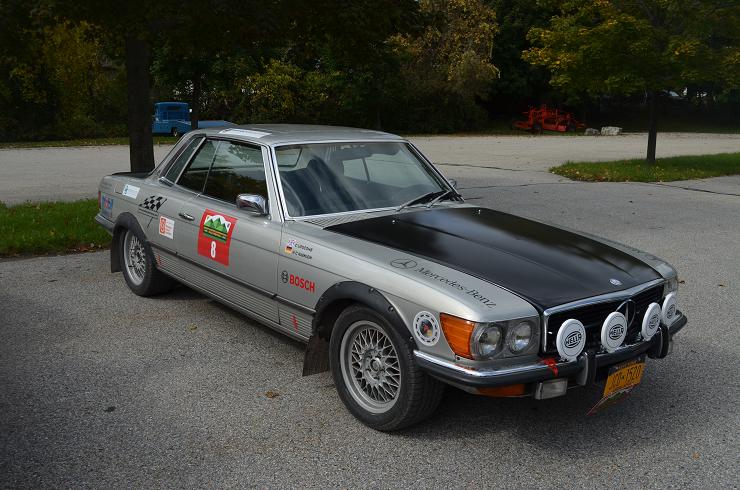 Full of fuel we jumped immediately back onto the Route Instruction sheet. We knew we were behind. We started and completed the fifth timed Regularity Section without incident.
We turned right off of Rt 302 west onto Boltonville Rd and found the green sign for the launch of the day's 6th Regularity Section. Rolling along at the prescribed average speed of 45mph, I followed a 90 degree curve in Boltonville Rd. and hustled on. Lynn, my navigator realized immediately that I had screwed up. At the 90 degree curve I was to have continued on straight, onto the gravel covered N. Bayley-Hazen Rd. I hit the brakes but there was absolutely nowhere in sight for me to make a turn around. I decided immediately to attempt to turn around within the parameters of the roadway, jockeying back-and-forth in small steps until we were headed back in the proper direction. About halfway into my efforts, while attempting to shift from reverse to 1st gear, I didn't get the clutch out fast enough and the Hudson's rear wheels slowly slumped off the roadway and into the soft soil of the adjacent ditch. We were STUCK!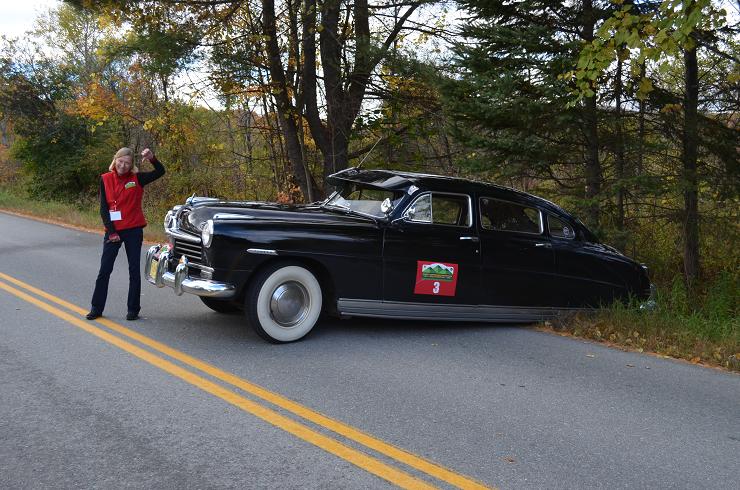 We debated what to do. I called Gary Hamilton, one of the rally-masters but got his voice-message. I left an impassioned plea for assistance. Within five minutes we heard the roar of an engine coming toward us from further up Boltonville Rd. Around the corner, off in the distance came Christopher and Hans in Car 8. They too had missed the gravel N. Bayley-Hazen Rd. and were thundering back in an effort to salvage a reasonable score on their Regularity Section timing. Since the Hudson had their path partially blocked they stopped to check in with us. They offered to help push us out but I assured them that it would take more than we could muster to get the hind-end of the Commodore back on pavement. We encouraged them to get back on their way. They told us they would let the rally official know of our plight, and off they roared in the Mercedes.
It was while I was talking to Gary Hamilton's voice message a 2nd time when a young man in a big Ram pickup pulled up alongside the disabled Hudson. "Anything I can do to help", he asked. "I'm afraid not, unless you have a rope", I replied. "Nope, I don't have a rope (dramatic pause) but I do have a chain!", he responded. Five short minutes later the Hudson was back on terra firma! I was embarrassed that my wallet was deplete of cash. I badly wanted to reward this young Vermonter for his heroism. We both thanked him with the utmost of sincerity. He drove off with one simple instruction. "Pay it forward." Earlier in the day, during the 3rd Regularity Section, we had been delayed by the pickup truck from hell. But that score was more than made even by our rescue by the pickup truck from heaven!
Even though our "stuck in the ditch" detour had stolen perhaps a grand total of just twenty minutes of our day's time, we soon discovered that the rally official for that 6th Regularity Section had given up on us and moved on. We later completed the 7th and final Regularity Section only to find that once again our tardiness had sent the official packing. We were destined for maximum penalties for Sections 6&7 of Day 2's challenge.
Even in the midst of a rather rough day, there were occasional sites that simply demanded a brief road-side camera break.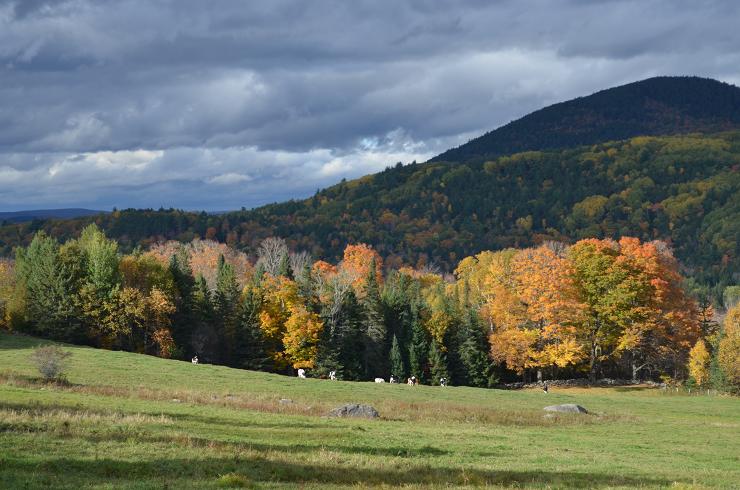 As we drove along late that day, Lynn and I reflected on our frustrations. We had been careless with our time. We got lost on multiple occasions. We were delayed by a pokey pickup. I put the car in the ditch, for crying out loud. And yet, for me, in hindsight, I had an absolute blast! We had lived a true rally kind of day, fraught with turmoil and mishaps. I found myself thinking of the 1955 GAMR pictures I had seen the night before of the big Hudson Hornet stuck on the snowy slope. Like Lynn and me, he too had experienced a "no good, very bad day".
It was nearly dusk as we turned south on VT Rt 108 south, through the famous and picturesque Smuggler's Notch and into the Stowe, Vermont city limits.
It seemed particularly appropriate that we were destined to stay the night with our Hudson Commodore at Stowe, Vermont's "Commodore's Inn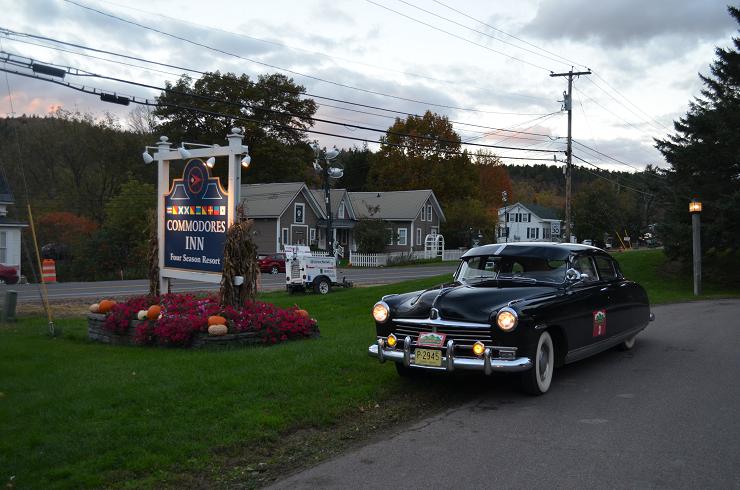 Nearly everyone had heard of our exploits by the time we arrived at the inn. The story of the Hudson in the ditch was told over-and-over again to people who wanted it straight from the 3 Car driver's mouth. We learned from Christopher and Hans that they had come back looking for us, in an effort to assist us during our time of need.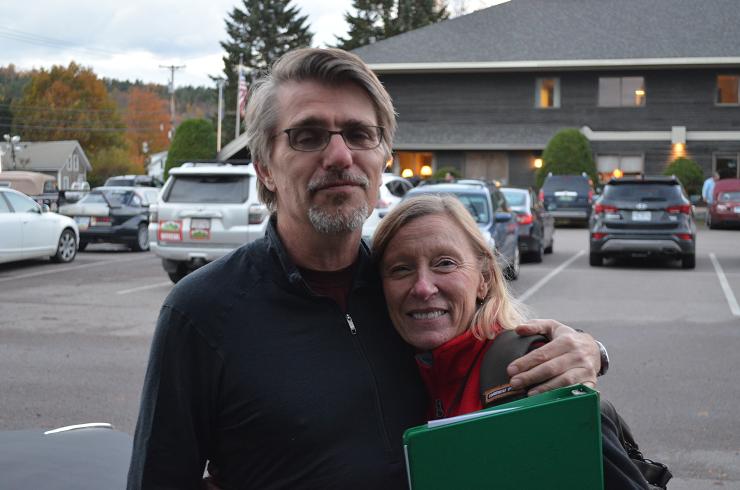 Hans greets Lynn with a post-bad day hug!
In short, It was a day Lynn and I will NEVER forget. What a gift! What will Day 3 hold in store for us and the rest of the rally teams?