The Great American Mountain Rally Revival- Day 1
The rain clouds cleared with the passage of night, and we awoke on Friday October 12th to somewhat overcast, but dry skies.
By 7:45am we has made the short jaunt west, across the state line from Connecticut into New York, where we found the Salem Golf Club. It was here the GAMRR participants had been instructed to meet.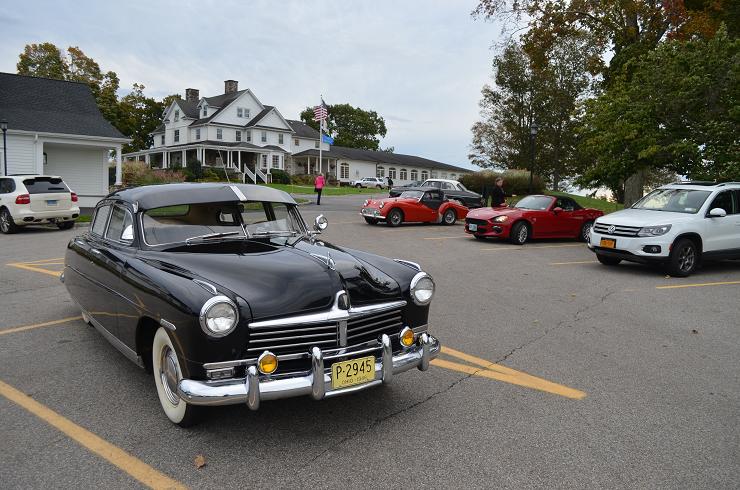 And there it was, the 1959 Triumph TR-3! My friend Danny Taylor from Indianapolis, and his brother-in-law Jeff Givens had clearly made it!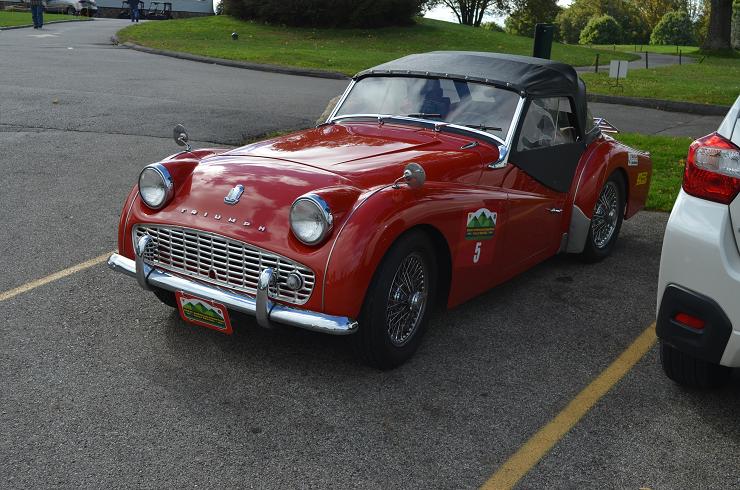 We went inside to warm up and meet the rally participants. It was here where we learned for the first time that there were 13 vehicles entered in the rally.
Car 1- Mark & Dane Axen with a 2009 VW Tiguan- modern
Car 2- Luis & Lisa Colom with a 2017 Fiat Spider- modern
Car 3- Greg & Lynn Davis with a 1948 Hudson Commodore- original
Car 4- Jim Gately & Fred Gallagher with a 1937 Cadillac- original
Car 5- Jeff Givens & Danny Taylor with a 1959 Triumph TR-3- classic
Car 6- Peter & Carl Helmetag with a 1968 Porsche 912- classic
Car 7- Matthew & Mary Ann Koops with a 1973 Dodge Monaco Police Cruiser- classic
Car 8- Christopher Lipscomb & Hans-Christoph Haenlein with a 1973 Mercedes Benz 450SLC- classic
Car 9- David Wells & Peter McGuire with a 1966 Volvo 1225- classic
Car 10- Ed & Thomas Owen with a 1986 Mercedes-Benz 190E 16V- classic
Car 11- Ed & Douglas Sain with a 2015 Toyota Highlander- modern
Car 12- Sebastian & Harald von Langsdorff with a 2015 Mercedes-Benz GLA 45 AMG- modern
Car 13- Lawrence Woodcome & Bob Williams with a 2017 Mazda MX-5- modern
Our Hudson was one of just two entries from the pre-1958 "Original" class. In that sense, (SPOILER ALERT) the mystery of exactly where we would finish within this rally of highly diverse vehicles quickly came to a close. The other "Original" car, a 1937 Cadillac, was owned and driven by Jim Gately. Jim, we learned, is not only a nice guy, but also a highly accomplished rally driver. Indeed Jim and his Cadillac were fresh off a late summer 1st place finish in the Alpine Trial, a rally conducted in the French Alps. Furthermore, Jim's navigator was to be Fred Gallagher, a former world rally co-champion. In short, Lynn and I didn't stand a chance against these guys. Before we ever left the Salem Golf Club parking lot we knew we were going to finish second in the "Original" class!
Jim Gately in his 1937 Cadillac at the Alpine Trial
The next three hours flew by. Pick up materials, apply rally decals to car doors, apply rally plates to front and back of car, attend rally school, look ahead through the Day 1 route instructions, etc. But by 10:45 folks were headed to their cars to get lined up for the start of the 2018 Great American Mountain Rally Revival.
Cars were scheduled to go off at 11:00am plus their car number in minutes. As car #3 the Hudson was scheduled to depart at 11:03am! As we sat in line watching the final minutes elapse, I found myself wondering if our Hudson was the first to ever compete in the GAMR. Were there others that had run in the original 1953-57 rallies? Either way, I felt proud that Lynn and I had embraced that opportunity to put Hudson in the 2018 lineup.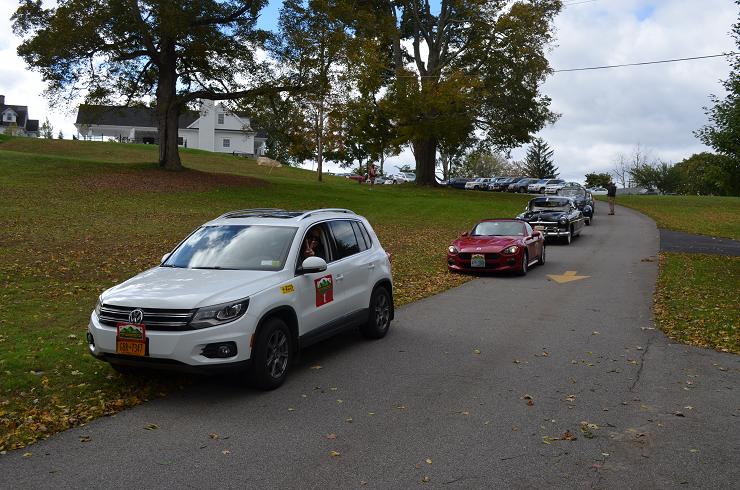 The cars line up at Salem Golf Club for GAMRR departure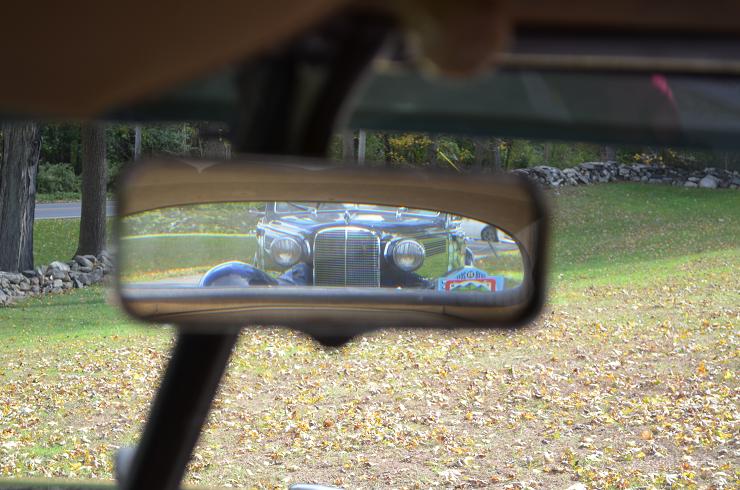 As we sat waiting to head out, I couldn't help but notice the reality check in my rear-view mirror. Jim Gately and Fred Gallagher were on our rear bumper in the #4 car.
Some of you will know these things but others of you will be rally rookies as Lynn and I had been. The first thing out of the shoot on a rally is to conduct an odometer check. The Route Instructions give you a specific starting point and end point over which to track your odometer reading. You divide your odometer reading by the odometer reading of the vehicle used to set out the route to create a correction factor that must be used for all odometer readings throughout the remainder of the day's instructions. In our case, the Hudson odometer read a couple of tenths of a mile higher than the rally odometer.
It is my understanding that not all rallies are conducted in the same fashion. In the case of the GAMRR, there were considerable portions of the route instructions for which our primary goal was to not get lost. There were other times however, what were called "Regularity" sections during which participants were led to green "Start Regularity Section" signs.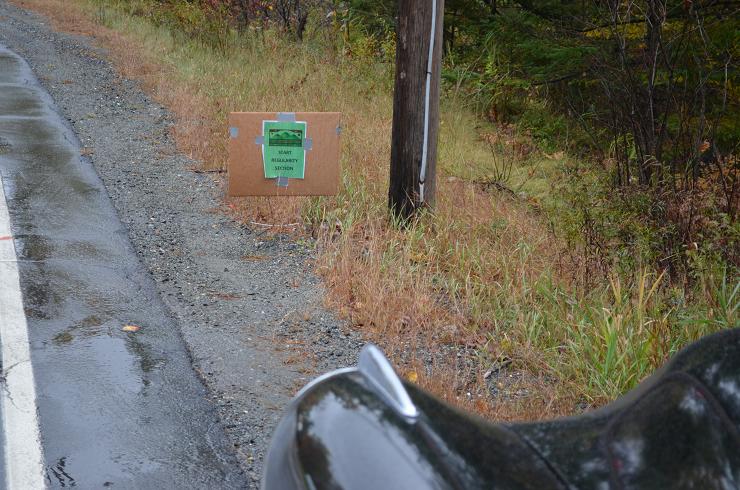 Our instructions were to stop at the green sign and wait until our "time of day" clock hit "double zeros". For example, if you pulled up to the green sign and your clock read "11:34.18", you would remain at the green start sign until your clock got to "11:35.00". At that point the navigator starts a stop watch while the driver sets out following the prescribed course at a prescribed average speed. Within some of the regularity sections the average speed remained unchanged throughout the section. Within other regularity sections the route instructions would tell us to change the average speed after "x" number of minutes and seconds had elapsed.
We never knew where the end of each regularity section would arrive. We simply had to watch the side of the road for a red "End Regularity Section" sign as well as a rally official with his stop watch. The rally official would record your arrival time and let you know what the perfect time would have been for the Regularity Section you had just completed if you had conducted the instructions in an ideal fashion. The number of minutes and seconds you were either over or under ideal were counted as a penalty against you. The lower your second count, the better!
The Day 1 route took us quickly back across the New York border into Connecticut. We snaked up the western border of Connecticut, ultimately crossing into Massachusetts just north of Mount Pisgah. We followed Rt. 8 north toward Pittsfield, MA and then cut off to the northeast on Route 8A toward and across the Vermont border.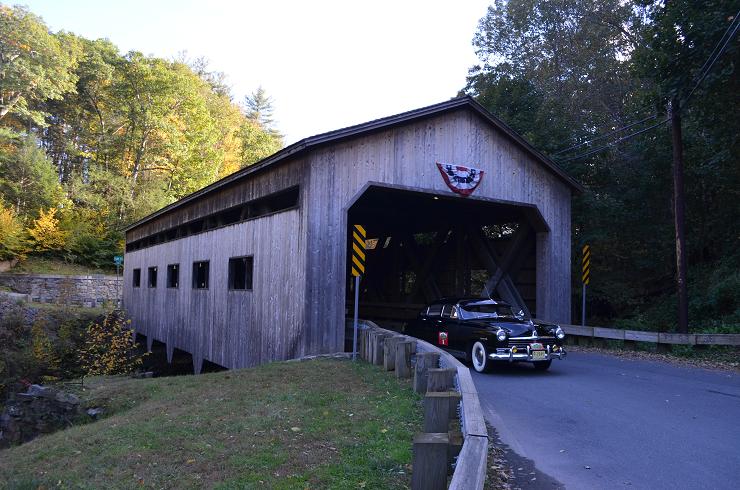 Crossing the Bissel Covered Bridge along Rt. 8A at Charlemont, Massachusetts
In all we had four Regularity Sections within our Day 1 travels. Lynn and I amassed a total of 2:09 penalty. We were firmly within the top third of performers! Not bad for a couple of rookies! But just for a reality check, our friends Jim Gately and Fred Gallagher in the Cadillac had a Day 1 penalty total of just 23 seconds!
The Day 1 journey entailed approximately 236 miles and wrapped up at the Grand Summit Hotel at Mount Snow, Vermont.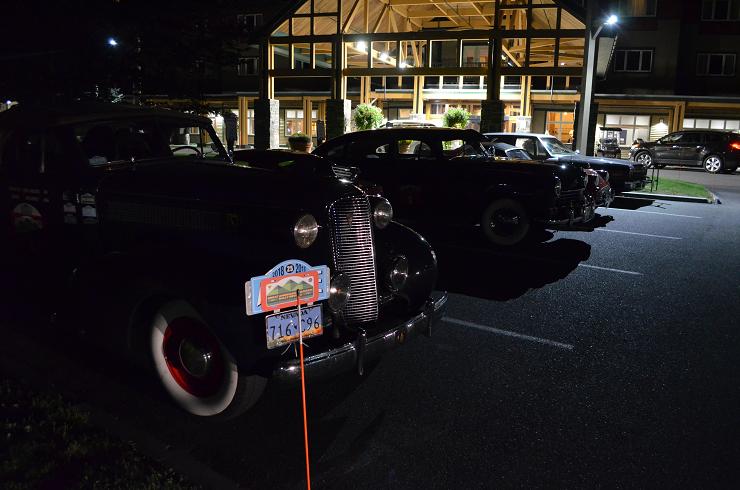 That evening at dinner, Steve McKelvie, the rally master told the story of a call he had received from a young man, Jeff Weeks. Jeff spoke of a visit to an antique shop and finding an old box of photo prints and film negatives. The images all seemed to feature old cars. The box was labeled "GAMR".
Jeff purchased the box and took it home. With a Google search the rich history of the Great American Mountain Rally unfolded before his eyes. With a little research he was able to determine that the prints were all from action at the 1955 GAMR. He had printed copies from several of the negatives and mailed them to Steve to bring along for sharing at our event. Steve had them in binders at a table against the wall. After dinner I went up to take a peek.
You can only imagine how excited I was when I stumbled onto two pages within the album depicting a man struggling to get his 1954 Hudson Hornet up one of the snowy slopes. A tiny VW Beetle came up from behind and ultimately passed the big Hornet. Nonetheless, I then knew that Lynn and I were not the first. Hudson had been there at least once before us. We weren't plowing new ground. We were carrying on a tradition!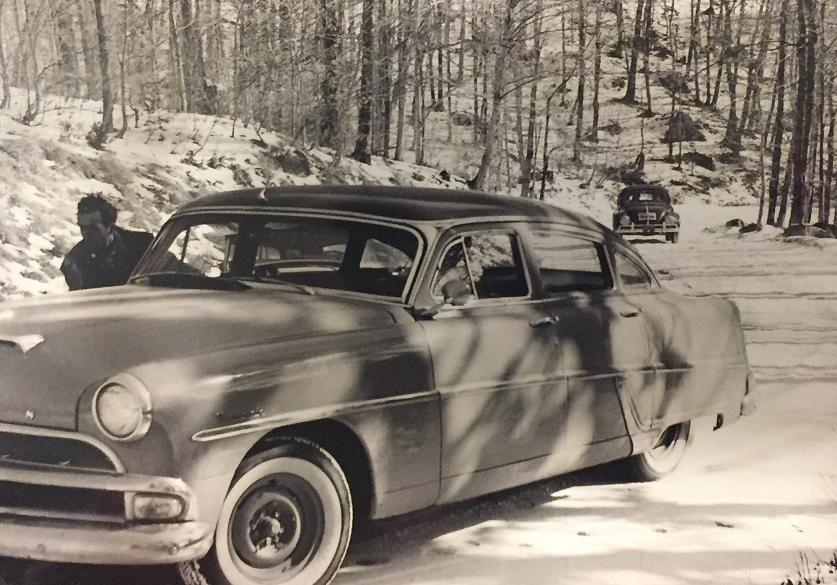 Come on back and see how Day 2 of the rally unfolded!