The Great American Mountain Rally Revival- Setting the Table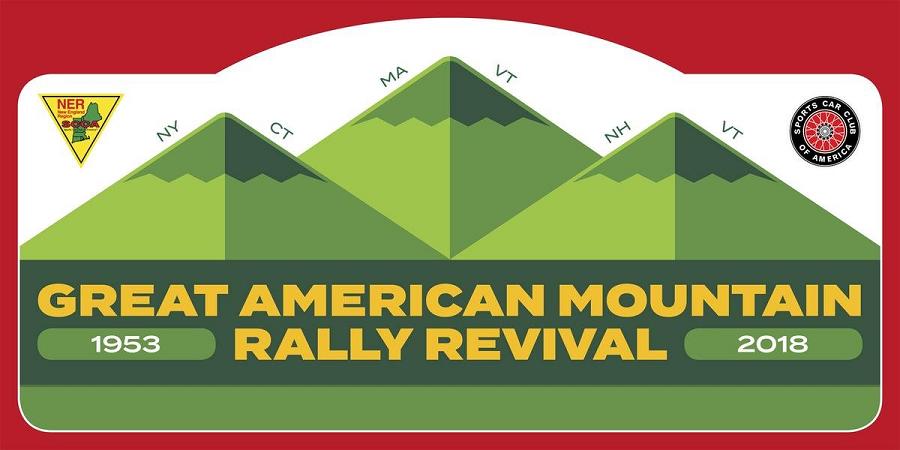 Just a short year ago, I had never heard of the Great American Mountain Rally (GAMR). But then I stumbled onto an article in Hagerty Magazine detailing a proposed 2018 "revival" running of the GAMR. Automotive rally teams from around the world were invited to gather in North Salem, New York for the October 12-14, 2018 Great American Mountain Rally Revival (GAMRR). The European-style endurance run would challenge drivers and navigators across three days and 700 miles of New England's mountain roads.
The flag dropped on the very first GAMR on Thanksgiving Day of 1953 and the rally continued every November through 1957. Described in the April 1956 Auto Age as "America's longest, toughest, and coldest rallye", the races attracted driving teams from across America, Europe and Scandinavia. Conducted the weekend of American Thanksgiving, the rally typically featured challenging snowy weather through New York's Adirondack, New Hampshire's White, and Vermont's Green Mountains. Tire chains were an absolute must!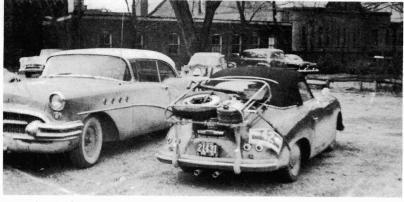 The cars that responded to the original GAMR invitation were as varied as this Buick and Porsche that partcipated in 1954. The Buick proved to be the 1954 champion.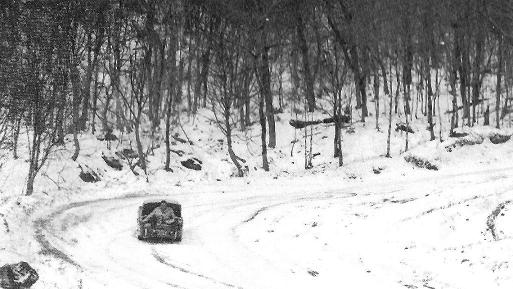 In 1956 driver Maurice Gastonides had his navigator Stewart Blodgett sit in the trunk of his Triumph TR-3 to add traction while climbing one of the rally's many snowy mountain passes.
My heart was captured from that first reading about the GAMRR! The revival organizers invited cars from three classes. "Original" cars were models from 1957 or earlier. These would be cars that actually would have existed during the years the original GAMR was run. "Classic" cars would be cars ranging from 1958-1980. Post-1980 "Modern" cars were also encouraged to enter. The only navigation equipment allowed would be things that had been invented and available prior to 1957.
Early in the summer of 2018 I connected with my Studebaker-crazed friend Danny Taylor at a birthday party in Indianapolis. Danny told me about his brother-in-law Jeff Givens, out of Leavenworth, Kansas who planned to enter his 1959 Triumph TR-3 in a New England road rally. Danny was going to serve as his navigator. "The GAMRR"?, I asked! "YES!", he replied incredulously. That's all it took. Neither Lynn nor I had done anything like this before but as soon as registration was open we signed up our trusty 1948 Hudson Commodore for inclusion in the rally! It was official! We were going to be novice GAMRR participants!
The weekend prior to our scheduled departure we took the Hudson our for a shake down trial run. Less than an hour out from home a problem surfaced with the car's electrical system. The "AMP" warning light jumped to life on the car's dashboard telling me that the car's battery was not being properly fed. Assuming the problem was the car's generator, I pulled out my spare and swapped them out. Problem solved. The light went out!
And so it was that early on the morning of Wednesday October 10th we set out on our adventure! Our target that day was Norwich, NY. We got to Cleveland without incident, but when we got off the interstate for lunch our hearts dropped as the bright red "AMP" light came back to life.
After lunch I pulled out my spare voltage regulator and once again made a parts swap. Problem solved! The light was out again and off we went. Just west of Erie, PA that dreaded light came to life again. It was demoralizing. Our rally dreams were seemingly going up in 70-year old car smoke. We decided to spend the night in Erie, hoping that in a city that size we just might find a shop that specialized in automotive electronics. Over dinner we looked online and there they were, Erie Batteries, Alternators & Starters, LLC.
The next morning we were in their parking lot at 7:15am. They were already open. Without hesitation Charley invited me to pull the nose of the Hudson inside for inspection.
Three hours later Charley, Troy and their team had taken our plans off of life support and put us back on the road, headed east for the Friday launch of the rally.
The Hudson behaved beautifully across the rainy 450 miles between Erie, PA and Danbury, CT. We settled into the Danbury Crowne Plaza eagerly awaiting the next morning's start of the GAMRR.