Ahimaaz King Lives on Through the Kings Local School District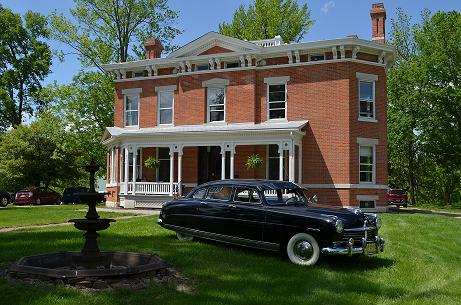 Once upon a time, when citizens of Warren County spent time on "Fountain Square" they were not traveling into Cincinnati. No, they were on high ground, the lawn at the King Mansion, overlooking the company-owned town of Kings Mills.
Ahimaaz King was born in Connecticut in 1839. With the early death of his parents he came to Ohio in 1856 to live in Xenia with his uncle J.W. King. Ahimaaz was a quick study within his uncle's gun powder business. So much so, that when J.W. purchased the 320 acre Isaac Stubbs estate in Deerfield Township, it was Ahimaaz he sent there in the 1870's to head up the relocation of his business.
Today, the King Powder Factory is long gone. The skeletal remains of his son-in-law's Peters Cartridge Factory still stand alongside the Little Miami Scenic Bike Trail. But, along with the King name, there is one of Ahimaaz King's contributions that remains strong and vibrant to this day.
In addition to the construction of his new 12-room mansion, the King Powder Factory and the company-owned town of Kings Mills, Ahimaaz King was also working to ensure that the children of his new town would have a first rate opportunity for education. Mr. King sought and received permission from the state of Ohio to start his own school system. The pre-existing one-room township school provided education through the 8th grade. Using his own money, Ahimaaz built a large eight-room brick building, complete with a library. From day-one his school system had higher standards. At a time when most school teachers had a high-school diploma, King insisted that his teachers have a college education. If his children were to one day receive a college education, he wanted teachers capable of paving that path on their behalf. Ahimaaz also procured a grant from the state to fund sixteen woodworking benches that were placed within the school's basement to provide for the education of the region's future woodworkers. A separate small building was assembled adjacent to the school providing for a new home economics program. These students prepared the food that provided lunch each day for students and faculty alike. In addition, under Mr. King's leadership, the King Powder Company and the Peters Cartridge Company funded a gym for the school that remained open and available on weekends and throughout the summer.
Like Lynn and me, some of you have children who have benefited from Mr. King's visionary education focus. Indeed, the Kings Local School District works still today sending Ahimaaz's "Knights" out into the world equipped to serve, empower and grow their communities.
Mark your calendar for Sunday April 29th at 2:00pm when an Ohio Historical Marker will be dedicated on "Fountain Square" at the King Mansion. One side of the marker will provide details regarding the mansion itself. The other side will act as a tribute to the mansion's builder, Ahimaaz King. I'm hopeful that you too will feel compelled to donate toward this marker. We can send our contributions to, Warren County Foundation, 118 East Main St., Lebanon, OH 45036. Earmark your mailing to the "King Mansion Marker".