Christmas Memories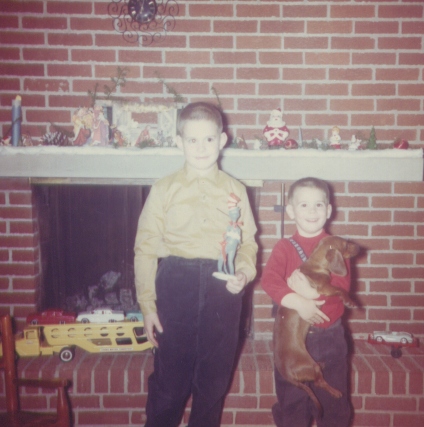 I have a confession to make. I LOVE Christmas! The Christmas season is my favorite time of year. And yes, my love of Christmas is rooted in a happy childhood. My parents created a warm, loving environment that elevated both the spiritual and secular elements of Christmas. Somehow they managed to leave my brothers and me with a holiday spirit that thrives more on "giving" than "receiving". And that spirit lives on still today.
When I was a kid, it was the Advent wreath at church that stood as the first visible sign that Christmas was in the air. Advent quite literally, is the season during which the church prepares the people for the nativity, the coming of Jesus. The Advent wreath is laid flat with four candles of purple or pink around the perimeter and a central white candle. During the first Sunday of Advent one of the perimeter candles is lit. The second Sunday, the first and a second candle are ablaze, and so on until all four of the candles are burning on the fourth Sunday of Advent. I loved going to church on Christmas Eve, to sing all of the familiar carols and to finally see the central Christ candle come to life within that wreath. It was quite simply, perfect!
At our house in Michigan my parents had planted a bunch of small spruce and pine saplings in our big back yard. As they grew and started crowding each other for space, my dad would select one of the backyard trees to be cut down and brought into the house to act as our Christmas tree. One year he cut down two ugly sparse trees. He used a wood auger to create holes in the trunk of one tree, and filled in the empty spaces with branches he took from the other tree.
Another happy day came each year when the JCPenny or Sears Christmas catalog arrived in the mail. My brothers and I would sit down and pour through the pages of the catalogs, dog-earring any page that had a Matchbox Toy or Tonka Truck that caught our eye. We figured Santa needed all the help he could get.
A tradition I remember vividly was our annual trip to "The Andersons" in Maumee, Ohio, a discount farm-based store outside of Toledo. My brothers and I would each have our own cart and a $20 budget from which we had to find a gift to give to Mom, Dad, and the other two brothers. We would always hide our selections in the cart beneath a winter coat just in case you turned the aisle and found yourself face-to-face with a brother and his cart-full of treasure.
Most of these are memories that I can't recreate any more but last year, after Christmas, I placed an order for six CDs, each a copy of one of the Christmas albums that my mom used to play each year at Christmas-time. When I was really little we had an old record player, and later a big console stereo. One CD has the Christmas hits of Frank Sinatra, and another Andy Williams. One features the rhythmic beat of Mitch Miller and the Gang. The Ray Conniff Singers were big in my mom's world. But her absolute, weak in the knees favorite was Perry Como. And I had to throw in Alvin and the Chipmunks for good measure. I can't wait to pull them out this year, to hear those same voices, those same tunes, filling my Christmas-time home once again.
Season's greetings to you all, and I wish those of you who celebrate Christmas, a joyous season of rich, memory-building, Christmas hope, peace, joy and love!