"MATCHBOX" Toys: Collectors and Their Toys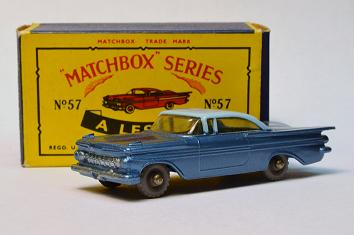 Leslie Smith and Rodney Smith were not related but you would have never known it during their grade school days. They were close friends in their London, England neighborhood. And then again, during WWII and their service within the Royal Navy, the two friends enjoyed a chance reacquaintance.
Following the war the two friends combined their resources to form a die-casting company. Taking the front half of Leslie's name paired with the back half of Rodney's, they rather simply titled their effort "Lesney Products" because they really had no clue what types of things they might be making.
It was during 1952 and the mania surrounding the coronation of Elizabeth as their new queen that the Lesney men decided to take a stab at die-casting a miniature version of the Queen's horse-drawn coronation coach. In the end they sold more than a million copies!
On the heels of that success Lesney decided to put together a series of four tiny construction-based toys just in time for Christmas 1953 release. The toys were so tiny that they fit nicely into a matchbox, indeed they chose to label and package their new range as "MATCHBOX" Toys!
To say that Lesney's "MATCHBOX" Toys were a success would be a rather significant understatement. During their 1969 zenith Lesney Products were producing 5.5 million models a week and their diminutive toys were found in homes all around the globe.
At the time of this writing Lynn and I are packing our suitcases for a trip to Albuquerque, NM. From July 20-23 "MATCHBOX" Toys collectors will join together from as far away as Japan, Brazil, Australia, England, Germany, New Zealand, and yes, Maineville, Ohio. This is to be the 15th annual "MATCHBOX" Collectors International Gathering of Friends.
Mattel, Inc, current owner of the storied "MATCHBOX" legacy, sends a portion of their design team to the Gathering. They share a sneak peek into the upcoming year's range of new "MATCHBOX" Toys and produce a limited run of two different "MATCHBOX" models that will be unique to this event.
Saturday evening of the Gathering weekend is highlighted by a dinner and collector auction. Last year's auction provided $10,000+ for the "Rachel's Courtyard" children's wing of the Albuquerque Presbyterian Hospital.
Sure, I'm wondering what toys I might bring home for the collection shelves but Lynn and I make the annual pilgrimage for the genuine friendships the toys have helped us forge. In the end "MATCHBOX" people trump "MATCHBOX" Toys.