Restore Youth and Vigor to Your Bite
Dentures Cincinnati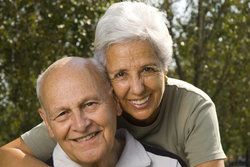 Missing teeth can compromise your ability to eat and speak, and make you feel self-conscious about your smile. If you are missing teeth, dentures can restore the comfort, functionality and confidence you deserve.
Dr. Gregory P. Davis provides custom dentures at his Cincinnati practice, serving West Chester and surrounding communities. Our practice believes no one should have to suffer with missing teeth. To learn more about dentures and schedule a consultation at our office, reach out to us today using our online contact form.
Types of Dentures
Recent technological advancements in the field have resulted in dentures that are more comfortable, look more natural, and perform better. We offer traditional dentures, which are crafted to achieve a snug fit on the gums, reinforced with a mild adhesive. Partial dentures, also known as dental bridges, are often recommended for patients who still have several healthy teeth. In essence, they "bridge" the gap left by missing teeth. Partial dentures can be anchored by adjacent dental crowns, or by dental implants (small titanium posts surgically implanted in the jaw bone). We also offer fully implant-supported dentures, which provide the highest level of comfort and functionality. A one-on-one consultation with Dr. Davis will determine which kind of denture will best meet your needs.
Benefits of Dentures
Dentures provide both restorative and cosmetic benefits. It can be painful - or impossible - to speak or chew comfortably without a full set of teeth. Dentures are custom-crafted to fit your mouth and help you to chew and speak properly. The balance of your jaw depends upon a full set of teeth; missing teeth can disrupt this balance, leading to headaches, facial pain, and other symptoms of temporomandibular joint (TMJ) disorder. Dentures can restore balance and provide you with a comfortable bite.
Missing teeth can rob you of facial volume, causing the cheeks to look sunken and emaciated. Custom dentures restore that volume, and give you a natural-looking smile you will be proud to share with everyone you meet. Contact us today to learn more about how custom dentures can help you improve your quality of life.
Schedule a Consultation Today
In addition to dentures, Dr. Davis offers a full range of restorative and cosmetic dentistry services designed to maintain, preserve and improve patients' oral health. Whether you are in need of a routine examination and cleaning, or if your mouth is in need of complete reconstruction, our friendly and compassionate staff is here to help you every step of the way.
Dr. Davis is passionate about helping his patients achieve a better quality of life and a better state of overall health through exceptional dental care. If you have suffered with missing teeth, decay, or other issues, we are here to help you experience the benefits of a healthy smile once again. Whether you are new to the Cincinnati area, or need to establish a relationship with an exceptional area dentist, we invite you to contact us and schedule a consultation.